One of our listeners sent the following to Curious Nashville:
What's the story behind the mosaic dragon in the park in Hillsboro Village?
This is one of those questions that gets more interesting the more you dig. On the surface, you've got these basic facts:
Fannie Mae Dees Park — commonly known as "Dragon Park" — was created in 1978. Shortly thereafter, a Chilean-born artist living in New York named Pedro Silva was commissioned to create a public play sculpture as the park's centerpiece. And after much sweat and toil by Silva — and 1,000 or so community volunteers who made designs with mosaic tiles — the "dragon" was born in 1980. (Technically, it's a "Sea Serpent," which is the sculpture's title.) It has been a neighborhood centerpiece ever since, hence the informal name "Dragon Park."
But the more intriguing story is the about the woman behind the park's name — and how the dragon was meant to heal a community torn apart.
Urban Renewal Changes The Landscape
During the 1970s, "urban renewal" was the national planning rage.
Here was the basic idea: In an effort to revitalize struggling urban neighborhoods, city governments would use eminent domain laws to buy out private property and redevelop, or turn it over to private entities to do so.
Though this was presumably done with the best intentions, urban renewal has an oft maligned reputation in hindsight. By the 1980s, the trend toward using eminent domain for large-scale projects was in decline.
But in the 1970s, there were federal grants available for cities, especially for proposals around tax-exempt institutions like universities and hospitals. $20 million alone was on the table for Nashville's proposed "University Center Renewal" project, an ambitious plan to reshape the neighborhoods around Vanderbilt.
Debate was heated, but Nashville's project was ultimately approved, and the federal funds came in.
Many properties around Vanderbilt were declared "blighted." Whole blocks of houses were torn down and developed into new city features, like the four-lane Magnolia Boulevard, connecting 21st Avenue and Music Row. Some of it was annexed as part of Vanderbilt's campus.
Jan Bushing, who currently leads the Hillsboro-West End neighborhood association's fundraising effort to preserve the dragon, remembers an atmosphere of division and mistrust. On one side was the city's housing authority and Vanderbilt University; on the other, neighborhood preservationists.
"In the '70s, the neighborhoods were deteriorating and declining," she says. "There was strife."
A Voice Of Resistance
When the University Center renewal project was proposed, Fannie Mae Dees was a nurse, living with her mother in a house they owned on Capers Avenue.
When she learned that her home was potentially threatened, Dees devoted herself to opposing urban renewal.
Dees was so committed that she eventually quit her job to focus on the issue full-time, becoming a regular disrupter at public meetings of the Metro Council, the housing authority and even state government. She covered her home with signs of protest, earning folk-hero status to some — a symbol for those resisting Vanderbilt's expansion and the city's encroachment into private property.
"She had a coffin in her front yard for many years," recalls Jan Bushing, "saying that it was killing her. It was killing the neighborhood."
Dees died just before the park that would bear her name was built, and her activism did not save her home from the wrecking ball.
A few blocks away, the site on Blakemore Avenue between 24th and 26th Avenues was cleared as part of the University Center renewal project. It had been considered, but ultimately rejected, as a location for St. Thomas Hospital. So it was decided that this spot would become a park.
"Betty Nixon was councilwoman," recalls Bushing, "and she said it should be named after Fannie Mae Dees. This land was all bought — or seized — under urban renewal. And that's why it's Fannie Mae Dees Park, with her rich history of protesting the urban renewal on Capers."
It's a textbook ironic twist: The park made possible by eminent domain would be named after the woman most closely associated with opposing it.
An Artist To Heal Rifts
In 1968, Anne Roos became the first woman on the Nashville Planning Commission. And eventually, she was appointed to the Metro Parks board.
There was a 1973 issue of the magazine Progressive Architecture that caught her eye. The cover story was about a public art project at the site of Ulysses S. Grant's tomb in New York City.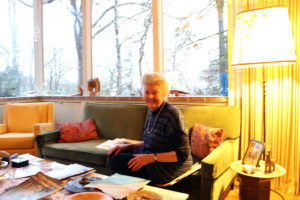 The area around the historic landmark was frequented by the homeless. Neighbors complained that trash was left around the site and graffiti was often painted on the walls.
An artist originally from Chile, Pedro Silva, had done several works in playgrounds around his adopted New York. At Grant's Tomb, he had the idea to enlist the community, including graffiti artists if they were willing, to pitch in for an art project.
Silva sculpted sleek, undulating benches from concrete that were then covered by the mosaic tile designs created by his community helpers. The result was not only beautiful to behold — it also inspired the community take pride and ownership in the site.
Since the neighborhoods around Vanderbilt had been so divided, Roos thought this was exactly the sort of community-building that the newly commissioned Fannie Mae Dees Park needed. She reached out to Silva.
"It was hard to get a reaction out of him," Roos recalls. "I called, and I wrote letters, and finally, finally got some feedback. It was just like an artist. You know — slow, slow. But we asked him if he'd be interested and sent him an airplane ticket."
Silva came to Nashville. He made a slide presentation to the park board and a community presentation at the Harris-Hillman School. After the visit, he mailed Anne Roos a few very vague sketch, explaining that he couldn't produce precise drawings. He was going to basically design the work on the spot.
Eventually, the parks board signed off, and Silva came back to Nashville. Sleeping in a spare room in Roos' home, he started spending every waking hour at the park site, curving rebar and wire into the basic shapes that he envisioned, pouring and layering concrete.
And he invited the public: Anyone who wanted could help. They were given a square of plywood and heaps of broken tile pieces and put to work on their own artistic contribution.
A couple of those tile designs were made by Nashville-area artist Mark Cowden. He was just 10 years old at the time.
Pointing to a stretch of the dragon's midsection through a protective fence, Cowden points to two orange octopus and a yellow seahorse, though he isn't completely sure which are his.
"I've been telling my kids those were mine for years," he says.
There are lots of sea-themed designs, but plenty of others, too. A couple visiting their son at Vanderbilt created a tile with a Buffalo and Niagara Falls — an homage to their home in Buffalo, N.Y.
On the creature's arching back, there's also a portrait of the park's namesake, Fanny Mae Dees.
The Park Was A Hangout
In the 1980s, the neighborhood around Fannie Mae Dees Parked looked much the same as it does now, but the houses had more window-unit air conditioners and less decorative lighting. College students and musicians could afford to rent houses.
Across the street from the park, a punkish Nashville rock band that seemed destined for greatness, called Royal Court of China, had a band house. Their muffled rehearsals could be heard reverberating through the park at night.
More: Royal Court of China music video full of Nashville sites
In the evenings, Dragon Park was the central hangout for any self-respecting, underage, WRVU-listening alterna-kid in town. The goths and punks who lived in Nashville in the '80s — and there were more than you might think — spent a lot of time standing around in groups there. You know, like teenagers do.
When college rock darlings REM recorded their 1987 album Document at nearby Sound Emporium, they had their photos taken in Dragon Park.
Saving The Dragon
Thirty-seven years after "Sea Serpent" was completed, she's showing her age. The mosaic tiles are starting to fall off in places. The more dire problems are structural.
Age and temperature extremes have led to a hollowing out and destabilizing of the dragon's concrete structure. Mending these problems without damaging the mosaic designs will be tricky — and expensive.
The neighborhood association is coordinating efforts to raise $200,000 for the effort. And in order to keep the dragon's condition from getting worse — and more expensive — the sculpture is closed to the public for the time being.
Pedro Silva died a few years ago, but his son Tony Silva has agreed to help with repair and revitalizing the dragon's mosaic tiles.