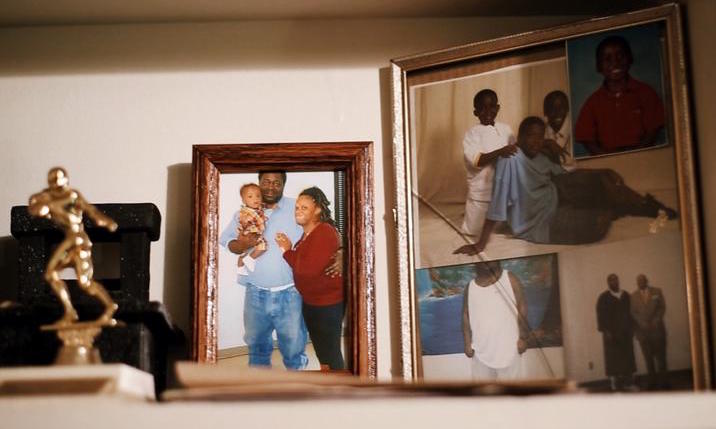 The Nashville District Attorney's office has a special unit with a lofty goal: to re-open old cases, figure out if someone was wrongfully convicted, and get innocent people out of prison. But a WPLN investigation has found that two years into its creation, the Conviction Review Unit has yet to re-open a case.
The DA's office tells WPLN that one controversial case has led it to restructure its specialized team trained to review potential wrongful guilty convictions. And, it says, it's re-considering further investigating a case that it had previously denied.
One of the first to apply for a second look, shortly after the unit was created in late 2016, was Joseph Webster — a man who has been serving a life sentence for murder since 2006.
Webster was convicted of killing a man named Leroy Owens in 1998 due to a drug debt. Two men, one which has never been identified, beat and chased the victim, eventually cornering him in a construction lot. He was brutally beaten over the head with a cinder block three times. Owens died on the scene.
The murder remained a cold case for almost seven years — until Webster came up for parole on a drug sentence he'd been serving. Suddenly, Webster faced a first degree murder charge and a life sentence. In 2006, he was convicted. But Webster has always maintained his innocence.
Most of the case rested on the facial identification of one key witness: a woman named Tammy Nelson who regularly smoked crack cocaine with the victim. Nelson didn't actually see the murder seven years prior, but she identified Webster in a lineup as one of the men who had come by her apartment in 1998 looking for Owens several times.
Years after the trial though, Nelson changed her tune. Burns, Webster's mother, says she'll never forget that day.
"My son Arthur called me and said, 'Mama, Tammy wants to holler at you,' and I said, 'Don't you bring her to my house!'
"He said, 'She has something she needs to tell you. It's very important and you need to listen to her.' "
Burns says Nelson said she had been on drugs at the time and had picked Webster at random. She said after she got clean, it haunted her conscience.
Nelson gave a statement to a notary saying as much. When they went to court, though, Nelson walked it back. But she returned to Burns twice more over the years, each time saying she was ready to tell the truth, and submitting written statements. By then, a judge deemed her an unreliable witness.
"OK, but you took her word the first time and sent my son away," Burns said. "What makes you think her word was good then?"
Reviewing The Case
There seemed to be other inconsistencies with the case as well. Webster's post-conviction attorney claims she never received a list of witnesses to the murder that could have helped clear her client.
And Webster and several family members claim they knew who the real murderer was all along. They say his brother confessed to the crime while Webster faced trial. But the family says they were scared to speak out during the trial, and thought Webster would never be convicted.
But the biggest break for Webster's new lawyer, Daniel Horwitz, came after he secured funding from the Innocence Project to test the murder weapon for DNA. A lab found the DNA of a single male on several parts of the cinder block — it wasn't Webster's.
Emboldened by the result, Horwitz turned to the Conviction Review Unit at the Davidson County District Attorney's office. In 2016, the DA created the unit, pledging to look at new evidence that might exonerate innocent people serving time for crimes they didn't commit. Horwitz thought this case was a perfect fit.
"All we are asking for, the only thing, is to investigate what happened here – reinvestigate this case," Horwitz said. "We have brought you new witnesses. We have brought you the confession from multiple new witnesses. We have brought you DNA."
But last July, the Conviction Review Unit denied that petition.
In a letter, the DA's office dismissed the DNA test because "it did not lead to new suspects." And it said Webster's and his family's claim that his brother commited the crime isn't technically new evidence — because he knew at trial and didn't raise that defense.
Horwitz said Webster gambled by not turning in his brother and has paid for that decision ever since.
"It was a significant risk. It was an unwise one, and it landed him in prison for life for a murder that he did not commit," Horwitz said. "[Webster] believed that the system would not convict an innocent person, and he is paying dearly for that expectation."
Changes To The Unit
In a response letter, Horwitz called the review unit "a sham." And, he noted, it's made up of seven prosecutors — including the one who put Webster away.
"I think it's fair to at least wonder what kinds of conflicts go on within a DA's office when you have some of your colleagues looking over your own convictions," Horwitz said. "Nobody wants to be responsible for a wrongful conviction."
Horwitz points to the review unit's track record: Of the 38 cases that have come before it, none so far has been ordered to be re-investigated, according to the DA's office.
The DA's office disputes the idea that there's a conflict of interest because any staff who ever worked on a case is automatically recused.
Still, the original denial of Webster's application led to some soul searching.
"This was the first case that got to this point," said assistant district attorney Robert Jones, who leads the conviction review unit. "It brought to light changes that we thought needed to be made."
After months of inquiries from WPLN regarding the board's decision to deny Webster's petition, he says the DA is scrapping the original seven-person unit, calling it "unnecessarily cumbersome."
As of today, only Jones will review petitions and decide if a case is recommended for re-investigation. Those that he determines might have merit will be passed on to Deputy Assistant District Attorneys Roger Moore and Amy Hunter for review. Previously, several people from the unit had to agree on a recommendation.
The final decision still rests with District Attorney Glenn Funk.
Jones says the concept of a conviction review unit is very new but says this shows the DA's office is open to change if it finds there are ways to improve the process. There are only about three dozen such units across the country, he says, among thousands of district attorney's offices.
"All of the units are like us: they're evolving. This is an evolution of the criminal justice system," he said.
Tracking Review Units
Even with a new structure, it's still unclear what it would take to re-open a case. The DA's office says they will consider only newly discovered evidence. They add it's difficult to specify what that is but that it depends on the case.
That might make it difficult to gauge how the review unit is working.
Barbara O'Brien, a professor and researcher with the National Exoneration Registry, says accountability can be hard to track nationwide because there are no set standard for these units.
"Certainly there are definitely some that appear to be window dressing," O'Brien said. "It looks really good to have this … but when push comes to shove and you actually have to look at your own cases, nothing happens."
But O'Brien warns that determining whether a review board is working is complicated because it simply may be that there are no wrongful convictions.
"It's hard to just look at the number of exonerations that come out of an office. That doesn't tell the whole story."
What a review board can do, however, is set up strong boundaries. O'Brien says the most productive review boards tend to count full-time staff, are led by someone with a defense background, and have a clear separation from the DA's office. But she says that's not always possible, especially in offices that simply don't have enough funding or staff.
In Nashville, the DA's office now tells WPLN that Joseph Webster's petition deserves a second look. They say a decision will be made in early February.
Horwitz, Webster's attorney, says that's all his client has been asking for.
"This system makes mistakes," Horwitz said. "And the unwillingness to even consider the idea that a mistake could have been made, results in people spending decades in prison for crimes that they did not commit — and results in guilty people staying out on the street for crimes that they did."